Royal Mesh: Mosquito Net Manufacturers
Engineered Following The Standardization Norms

Pan India Distribution Network

Trained Installation Team

Excellent Product Quality
Customized Products
Affordable Rates
We all know that mosquitoes can be a real nuisance. We all also know that we shouldn't just go around killing these smart little creatures. But by far the best way to keep them away is to do so before they enter our homes, in other words when they are still outside! This means that windows and doors should have mosquito nets. A lot of people know about this already, but most don't put up such nets in their own house and so they continue to get bitten by mosquitoes.
The reason for this is that you can forget all about buying mosquito nets in stores! They cost an arm and a leg and the only thing you really need to do to enjoy a nice evening with your family is to forget about the mosquitoes.
The best way to deal with mosquitoes is to hire our company for mosquito net installation in your homes. The nets are easy to put up, normally taking only a day or two, and they can be removed when not needed. You won't regret hiring us because the service we offer is second to none.
Mosquito nets for Windows and doors are the best way to keep mosquitoes from entering buildings. Our company has been around for a few years now as an affordable manufacturer and installer of mosquito nets to all the types of properties. In that time we have gained a lot of knowledge about this field. Along with giving the utmost mosquito nets, our experts will help you know a lot of tips about protecting your property from mosquitoes. We know that every property is different and has different needs, so we make sure to offer our customers a customized service that fits their specific needs.
Royal Mesh: India's No. 1 Mosquito Mesh Provider
Your home is your happy place where you can spend time with your family in peace. But, even one annoying mosquito can disrupt your peaceful time. With just one bite, you can land in a hospital bed due to dengue or malaria they brought into your house. Protect your family from these deadly mosquito attacks by guarding your doors and windows with Royal Mesh mosquito nets.
Royal Mesh manufactures the best quality mosquito nets for windows, doors, and balconies. We use the best quality materials to manufacture mosquito nets. Our mosquito nets are made of aluminium to prevent any rusting and show resilience. These nets come with a promise of durability and easy maintenance. Be it a wooden, aluminium, iron, UPVC, or any other kind of door or window, you can install them easily. We even provide you with options like pleated and roller mosquito nets. After installation, there will still be 100% light entry and ventilation in your home. Moreover, we've got so many colour options that can go well with your home and maintain the aesthetic appeal.
Why Use Royal Mesh Mosquito Nets?
Because Royal Mesh mosquito mesh will allow you to sleep in absolute peace & wake up to a bright sun. Mosquito netting is the best tactic to protect your home from mosquitoes. Instead of using insecticides which choke you and harm you, our mosquito nets will guard your home.
Moreover, you get this effective protection against mosquitoes at a super affordable rate. How? Because we manufacture our mosquito nets ourselves. Which means you can even get a customized mosquito mesh for your homes.
Mosquito Mesh for Windows is a sliding mosquito mesh for a window that folds in our product. Royal Mesh always brings products that are reliable and easy to use.
Mosquito Mesh For Balcony
Wanna enjoy the perfect view from your balcony without the fear of mosquitoes or any insects? We have brought a perfect product for you
Royal mesh is a mosquito mesh manufacturers. That manufactures mosquito mesh for the door, pleated mesh.
Mosquito Mesh For Upvc Door
Royal Mesh has brought a perfect product for UPVC doors to secure you from insects that may bring deadly diseases from outside.
Mosquito Mesh For Wooden Door
Royal mesh mosquito mesh can also be used on wooden doors and the way of using is the same as for the other doors the benefit of using on wooden doors
Pleated mesh is v Royal Mesh has collaborated with the simplest corporations in Europe to produce quality Insect Screen Systems to Indian shoppers.
Royal Mesh takes guarantees of the products it manufactures. To manufacture the best quality roller mosquito net, we use only the best materials. Our mosquito nets have a strong frame made of aluminium and have a T6 powder coating for hardness. It is a shutter type of mesh that can be installed on any kind of windows or doors like UPVC, wooden, etc. The auto-lock facility makes it easier to use it, you can pull it up or down automatically with ease.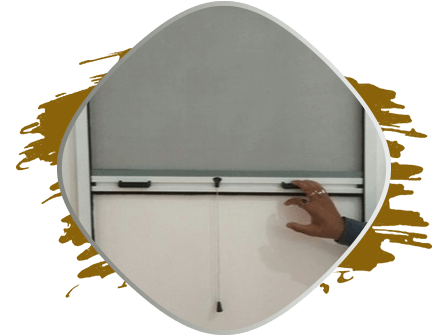 | Royal Mesh | Other Local Suppliers |
| --- | --- |
| Best tools used in manufacturing the world-class mosquito mesh for the customers. | No technical or exclusive tie up with any standard supplier |
| Trained and well-experienced Technicians | Zero to minimal experienced technicians |
| 16 gade Aluminum Profiles to ensure prove the long-lasting meshes to our customers | Low Grade Aluminium Used |
| 7 years Written Warranty | No Guarantee. And the products used will last for 6 to 9 months maximum. |
| A Properly Stiched Mesh | They deliver a messed up mosquito mesh |
| Affordable Mosquito Mesh With the Best-Quality | Price variation as per customer profile and no intention of transparency |
I ordered a customised mosquito net from Royal Mesh and they delivered exactly what I wanted, a nice quality product.
Installing Royal Mesh mosquito nets was so easy for me, none of my windows or doors got damaged during installation.
Royal Mesh mosquito net services are top-notch! Quick response to messages, quick delivery, efficient installation team and amazing customer services.
I thought mosquito netting my house would cost me a fortune, but from buying to installation, everything was in budget.
Till now, I haven't seen any rusting on my mosquito nets from Royal Mesh. They truly show resilience and durability.
I was worried about receiving less sunlight and ventilation after installing mosquito nets but Royal Mesh nets proved me wrong.