Using aluminium windows and doors can always be an intelligent idea rather than traditional bulky wooden doors or windows. In this article, you will learn about the five reasons why most people choose sliding aluminium windows for your Space, whether you are building your home, office or hotel. The Aluminum mesh door looks more elegant, stylish and eye-grabbing.
1. Energy Efficient
Aluminium provides optimum thermal insulation against heat. Aluminium materials are manufactured by the technology of thermal break that makes them energy efficient. Aluminium materials are highly reflective, thus saving energy and maintaining your inner home's heat or cold as per the season. It is capable of warding off rain, dirt and dust. After all, you deserve a more comfortable environment in your Space; that's what it does by its properties.
2. Safety
From the safety point of view, sliding aluminium mesh doors have an unparalleled match as toughened safety glass is used by the manufacturers these days, which makes it stronger and harder. If you opt for top brands, you get shatterproof glasses and a multi-point lock system in sliding aluminium mesh doors. 
3. Durable
Aluminium materials are ductile and can be beaten into thin sheets; that's why it is even more durable and flexible. It is easy to transform them into any design that suits you the most. Aluminium mesh doors are resistant to insects, termites, rust, wear and tear. The best part about this material is- it stays intact during the fire and prevents the fire flames from spreading to the other part of your Space. 
4. Space-saving
Sliding doors are not only easy to operate, but it's space-saving. Unlike general doors that are open outward or inward, squires space unnecessarily. On the other hand, sliding doors don't acquire Space; it is attached by walls and seamlessly works on a horizontal track.
Once you observe it, you will feel its space-saving door regardless of its size. A sliding aluminium mesh door will be the best idea if you have a small area for your windows or door because it requires almost no space. Together with, it will give you an aesthetic view of your home, which is an additional benefit.
5. Low-Maintenance
The aluminium sliding door requires no cost for maintenance. You can easily wash it with a water fountain to remove dust and dirt effortlessly. If using it in your window, clean it with normal shampoo or detergent mixed with water with the help of a damp cloth and see it shining.
You don't need to buy harsh window cleaners. You can occasionally use any specific lubricants to clean its glass if you wish to do, which is not mandatory at all. It takes no time to maintain and clean.
Benefits of an Aluminium mesh door 
Easy to Use
Highly effective against the entry of insects, pests, dirt and dust.
Don't worry about the obstruction of natural lights entering your Space.
Mesh doors reduce the internal visibility for outside standing people staring inside your home.
Highly Durable, with proper ventilation
Easy to maintain
It gives an aesthetic look to your Space
You can use it indoors or outdoors; install it wherever you want.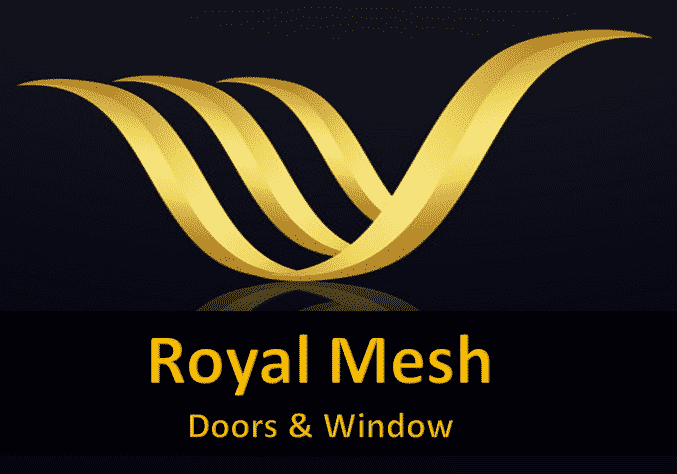 Royal Mesh is India's best mosquito net manufacturer to save people from mosquito bites. Our company provides high-quality mosquito nets for doors, windows, and at required places. Our expert installation team visits customers' homes and install the net within minutes. We customise the nets according to customers' doors and window size. Our company wants you to feel fresh air and light in the house without mosquito bites. We are here to make your life peaceful and mosquito-free