Are you searching for an effective and affordable way to keep mosquitoes out of your house? If yes, then aluminium mesh doors are the best solution for it. These mesh doors provide protection against mosquitoes without even letting you know the difference between before and after. Let's see some benefits of installing aluminium mesh doors in your house.
What is the aluminium mesh door price?
Aluminum mesh doors are affordable compared to other options. The aluminium mesh door price is almost similar to normal aluminium doors. You can get a custom aluminium mesh door starting from ₹180/per square foot. Since it's a one-time investment that protects against mosquitoes for years, it becomes more cost-effective than other options.
Where should you install an aluminum mesh door?
Aluminum mesh doors are best for the main entrance door of the house. Not only does it stop mosquitoes and bugs outside the house, but it also adds another layer of protection to your house. Moreover, if your balcony is connected to your house through a door, you can add it to your balcony's entrance. However, if your balcony has a big entrance, you can choose sliding aluminum mesh doors.
What are the benefits of aluminum mesh doors?
There are many benefits of installing an aluminium mesh door in your house, such as protection against mosquitoes, safe for children and pets, easily available, low maintenance cost, and many more. Let's see these benefits one by one briefly.
Protection from mosquitoes
It is undoubtedly the best and the main benefit of aluminium mesh doors. These mesh doors provide a thin layer of protection between you and the mosquitoes. It protects you from coming in contact with the viruses that are carried by the mosquitoes.
Aluminium is considered one of the best materials for home interiors as it requires much less maintenance over a long period. The same applies to the aluminum mesh doors. Aluminium mesh doors are durable and keep functioning for many years with very low maintenance. Moreover, cleaning these mesh doors is easier than wooden mesh doors.
Aluminium mesh doors don't interrupt the fresh air flow. It keeps the house's ventilation the same as before installation. Moreover, it also allows the sunlight to enter your house to keep the natural lighting coming.
Safe for children and pets
An Aluminium mesh door is a safe option to protect yourself and your family from mosquitoes. The harmful chemicals in mosquito repellents can cause many diseases, such as food poisoning, if accidentally consumed. However, there is no such risk with an aluminum mesh door as it is completely safe for children and pets.
Conclusion
In conclusion, aluminium mesh doors are a great low-maintenance solution for keeping bugs out of your house, especially mosquitoes. With their affordable price and durability, aluminium mesh doors provide a cost-effective way of protecting your home from mosquitoes and other bugs. They are also safe for children and pets, allowing for uninterrupted airflow and natural lighting. Overall, aluminium mesh doors are a practical and effective option for anyone looking to keep their home safe and comfortable.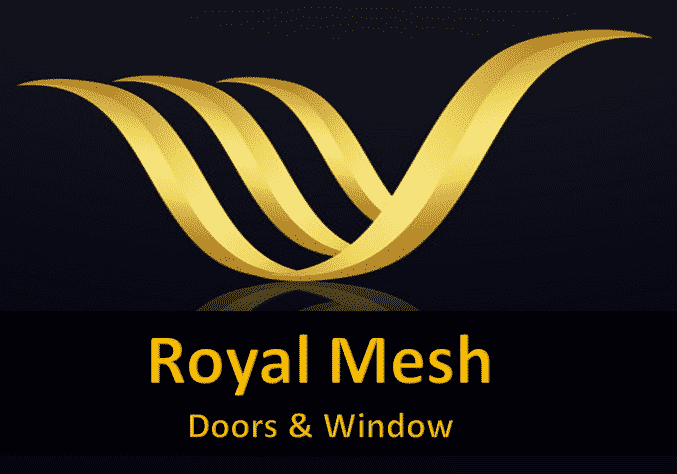 Royal Mesh is India's best mosquito net manufacturer to save people from mosquito bites. Our company provides high-quality mosquito nets for doors, windows, and at required places. Our expert installation team visits customers' homes and install the net within minutes. We customise the nets according to customers' doors and window size. Our company wants you to feel fresh air and light in the house without mosquito bites. We are here to make your life peaceful and mosquito-free